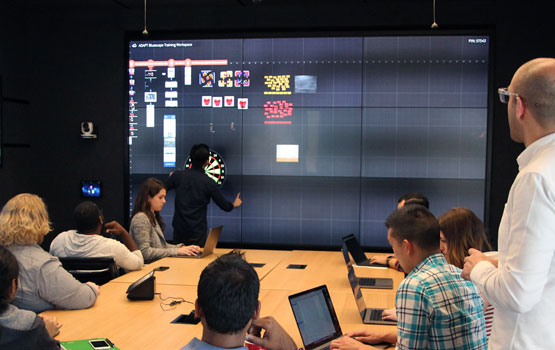 Optika 55" Touch Videowall
Ultra large format interactive touch wall technology for team collaboration
The Captivate Series provides an ultra-large seamless interactive display for teams to visualize and interact with complex data, documents, images and videos in real-time making it the perfect solution for collaboration.
Unmatched Optical Clarity
The Captivate Series industry exclusive, optically bonded touch glass technology provides a flawless viewing and interactive touch experience. A specially formulated anti-fingerprint, anti- glare and anti-smudge surface treatment combats overhead conference room reflections. Brightness uniformity ensures a high-quality image is always delivered across all displays
Smooth Edge-to-Edge Design
Optika's first-to-market, solid mounting system (SMS) delivers a best in class, smooth touch surface that eliminates distractive display wall seams and provides a visual clarity unmatched in this size class. Optika Display selected Baanto's ShadowSense TM to power the touch technology. This unified solution provides high-performance touch on a completely flush, virtually seamless, optically clear surface enabling true edge-to-edge industrial designs with a super narrow bezel.
True Multi-touch Support
ShadowSense TM offers industry-leading interactive pen and multi-touch performance ensuring a perfect Windows or Android user interface experience. With sub-10 ms response times and sub-2 mm touch accuracy, every touch point is independently tracked to provide a seamless experience. An industry first, Dashboard provides the ability to configure and modify the touchscreen behavior –adjust touch characteristics around spurious touch, palm rejection and much more.